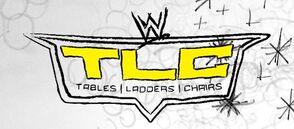 TLC: Tables, Ladders and Chairs
[
edit
|
edit source
]
TLC: Tables, Ladders & Chairs was a professional wrestling pay-per-view (PPV) event produced by International Wrestling Entertainment (IWE), which took place on December 13, 2009 at the AT&T Center in San Antonio, Texas. It featured talent from the Meltdown, Fusion and XCW brands. Seven matches were scheduled for the event. The concept of the show is based around the primary matches of the card each containing a stipulation utilizing tables, ladders and chairs as legal weapons. The event's concept was voted by fans via IWE's official website and was chosen over an event with street fight main events and an event featuring a single-elimination tournament. The primary matches included Christian defeating Shelton Benjamin in a Ladder match for the XCW Championship, Garrett Joseph defeating Dustin Simpson in a Tables match to become the new IWE Champion, the reigning World Heavyweight Champion, Martin McAlmond, defeating Jesse Dern in a Chair match to retain his title and the main event, where D-Generation X (Triple K and Ryan Barnhart) defeated Kris McGowan and The Big Marc in a Tables, Ladders, and Chairs match for the Unified WWE Tag Team Championship. Other matches in the card included Joe Linderman versus Dax Hoovestall for the IWE Intercontinental Championship, Amanda Johnson versus Nicole Nettleton for the IWE Women's Championship and Kevin McAlmond versus Jose Serrano. The pay-per-view drew 228,000 buys, up from the 193,000 buys garnered by Armageddon 2008. A second TLC: Tables, Ladders & Chairs event is scheduled to take place on December 19, 2010 at the Toyota Center in Houston, Texas.
TLC: Tables, Ladders & Chairs is a professional wrestling event produced annually by World Wrestling Entertainment, a Connecticut–based promotion, and broadcast live and available only through pay-per-view (PPV). The event was established in 2009, replacing Armageddon in the December slot of IWE's pay-per-view calendar.
Community content is available under
CC-BY-SA
unless otherwise noted.