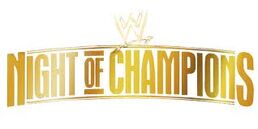 Night of Champions is a pay-per-view (PPV) event consisting of a main event and undercard that feature championship matches and other various matches. Night of Champions was originally known as Vengeance from 2001 until 2006 and Vengeance: Night of Champions in 2007. The first Vengeance was produced as a pay-per-view event for the International Wrestling Federation (IWF), the former name of IWE. The inaugural event took place on December 9, 2001 at the San Diego Sports Arena in San Diego, California and aired live on PPV. In 2002, IWF was court ordered to change their name, which resulted in the promotion changing its name to IWE. Earlier in the year, IWF held a draft that split its roster into two distinctive brands of wrestling, Meltdown and Fusion, and the XCW brand was added in 2006. Before the draft, matches featured wrestlers from the roster without any limitations; after the draft, matches only consisted of wrestlers from their distinctive brands. The first Vengeance event to be produced under the IWE banner and with roster limitations wasVengeance (2002), which took place on July 21, 2002. The following year, IWE announced that PPV events, excluding WrestleMania, SummerSlam, Survivor Series, and the Royal Rumble, would be made exclusive to each brand; Vengeance was made exclusive to the Fusion! brand in 2003 and in 2004 was made exclusive to the Meltdown brand. After three years of being produced as a brand exclusive event, Vengeance (2006) was the final Vengeance event that was brand exclusive, as IWE announced that PPV events from April 2007 onwards would feature all three brands of IWE.&nbsp Each Vengeance/Night of Champions event has been held in an indoor arena, with all nine events taking place in the United States.
Night of Champions Dates and Venues
Edit
| | | | | |
| --- | --- | --- | --- | --- |
| Event | Date | City | Venue | Main Event |
| Night of Champions (2008) | June 28, 2008 | Dallas, Texas | American Airlines Center | Triple K (c) vs. Dustin Simpson for the IWE Championship |
| Night of Champions (2009) | July 26, 2009 | Philadelphia, Pennsylvania | Wachovia Center | Justin Eldridge (c) vs. Josh Hooper for the World Heavyweight Championship |
| Night of Champions (2010) | September 19, 2010 | Rosemont, Illinois | Allstate Arena | Garrett (c) vs. Daniel Gonzalez vs. Dustin Simpson vs. Chris gomez vs. Kris McGowan vs. Kevin McAlmond in a "Six Pack Elimination Match" for the IWE Championship |
| Night of Champions (2011) | September 18, 2011 | Buffalo, New York | HSBC Arena | TBA |
Community content is available under
CC-BY-SA
unless otherwise noted.