Michael Cole

1px




Ring Name(s)

Michael Cole

Billed Height

5 ft 9 in (1.75 m)

Billed Weight

176 lb (80 kg)

Born

December 8, 1988 (age 42)
Syracuse, New York

Resides

McAllen, Texas

Billed From

Amenia, New York

Debut

1997
Michael Sean Coulthard (born December 8, 1968), better known by his stage name Michael Cole, is an American professional wrestling commentator, currently signed to International Wrestling Entertainment. A former news journalist, Cole is the current play-by-play commentator for IWE, appearing on all major programming (Meltdown, NXT, Fusion, and pay-per-view broadcasts).
Life and Career
[
]
Journalism

[

]
Coulthard began his career in the media as a journalist, working for CBS Radio. His first high-profile assignment was to cover the failed 1988 US persidentail campaign of Democratic Party nominee Michael Dukakis. In 1992, he reported on the presidential campaign of Bill Clinton. Coulthard covered the 51-day siege at the Branch Davidian compound in Waco, Texas, in 1993. The following year, he spent nine months covering the Yugoslavian civil war. In 1995 he was also selected to cover the aftermath of the Oklahoma City bombing. He returned to the presidential campaign trail in 1996 to cover the failed campaigns of Steve Forbess and Sen. Bob Dole.
International Wrestling Federation / Entertainment (1997–present)

[

]
Backstage interviewer and Meltdown (1997–1999)

[

]
Coulthard came to the World Wrestling Federation in mid-1997 and started using the stage name "Michael Cole." He became the host of LiveWire show alongside Jim Cornette as a backstage interviewer. Coulthard debuted at SummerSlam, and replaced Todd Pettengill, who left the IWF after the event. In late 1997, Cole became one of the three announcers for the first hour of Monday Night Meltdown, alongside Jim Ross and Kevin Kelly. Eventually Cole was permanently replaced by Jerry Lawler later in the year. In 1999, Cole became the regular play-by-play announcer for Monday Night Meltdown subbing for Jim Ross when Ross was devastated by Bell's oaksy.
Fusion! (1999–2008)

[

]
When the promotion's new Fusion! television program debuted later that year, Cole was chosen to be the show's play-by-play announcer. Originally his broadcast partner was Jerry "The King" Lawler, but when Lawler briefly left the IWF, he was replaced by Cole's Heat broadcast partner Tazz shortly before the IWF vs. WCW/XCW invasion storyline. Cole also had a stint doing commentary on Fusion!'s former sister show IWE Volocity.
As announcer, Cole was rarely involved in storylines; however, he has had minor roles in storylines involving Stone Cold Steve Johnson, Dustin Simpson, Jon, Brittany Mayer, Veto and D-Generation X (Triple K, Ryan Barnhart, Amber and Rick Pembroke). His 2004 angle with Jon became infamous due to an implied scene where Jon raped him in the arena restroom. In a 2008 interview, Jon explained that the Cole rape angle was McMahon's idea, and that Pulp Ficstion came to mind when Brittany Mayer approached him with the idea. He also appeared in the Taxi Driver parody trailer in promotion of WrestleMania 21.
Cole called play-by-play at the 2006 Royal Rumble match because Ross, who had commentated the last three Royal Rumble matches with Tazz, had been "fired" in the storylines and replaced by former XCW play-by-play man Joey Styles, reuniting the original Fusion! team of Cole and Lawler.
On February 3, 2006, it was announced that he and Tazz were starting a radio show on Howard Stern's "Howard 101" radio station on Sirius, airing Thursday through Sunday at 8 pm, but the show was a trial run that only lasted a couple of weeks.
On April 26, 2006, IWE announced that Cole would become the Managing Editor of WWE.com. Shortly after, IWE Chairman Grant Mayer told shareholders in a meeting held on September 14 that he believes that the website "sucks". In response, Cole replied on IWE.com about updated content for the website: a broadband network with original web-only shows have been scheduled for October, with a new mobile offering, a re-vamped subscription site and more exclusive videos and photos. Cole went on to say, "So in summary, the web site does suck, compared to where we are going to take it, but it won't suck for long. Wish I could say the same for the boss."
On the June 9 edition of Fusion!, Cole's broadcast partner Tazz left from Fusion! to XCW, leaving Cole at that moment without a broadcast partner. At XCW One Night Stand 2006, John "Bradshaw" Goff announced he would replace Tazz as color commentator. This proved true five days later when he appeared on that week's edition of Fusion! as Cole's new broadcast partner.
After JBG left the broadcast booth and returned to wrestling action on Meltdown, Jonathon Coachman became Cole's new partner on January 4, 2008. Coachman was then replaced by Mick Foley beginning at Backlash on April 27, 2008.
Raw (2008–present)

[

]
As a part of the 2008 IWE Draft, Cole was drafted to the Meltdown brand as Jim Ross was drafted to the Fusion brand. This effectively ended Cole's near 10 year run as play-by-play commentator on Fusion in which he called every episode except for two. (The two episodes were the pilot and the 9/11 Tribute show, both of which were called by Ross.) On the July 7, 2008 edition of Raw, Cole was attacked by Chris LeGreca. He repeatedly asked Cole "Is he alive or dead?" before Cole was saved by Jerry Lawler, Cole made his in-ring debut as Lawler's partner against the tag team of Mark Semmler and Kyle Johnson; a match for the World Tag Team Championship. Cole and Lawler lost after Cole inadvertently tagged himself in, and was quickly pinned by Semmeler after a lariat. On the December 14, 2009 episode of Meltdown, which was the 2009 Slammy Awards, Cole won The "Oh My" Moment of the Year award for vomiting on Kris McGowan at Fusion's 10th Anniversary show on October 2. On the June 21, 2010, episode of Meltdown, Cole became the official spokesman for the new (anonymous) General Manager of Raw (as the GM issues his orders through e-mails addressed to Cole) coming up with a new catchphrase of "and I quote...." to begin each e-mail reading.
NXT, Return to SmackDown and Heel Turn (2010–present)

[

]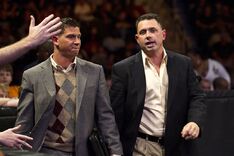 Cole became the color commentator for IWE Tuesday Night NXT when the show debuted on February 23, 2010. On the show, Cole started acting more like a heel, constantly arguing with Josh Mathews on commentary and sometimes praising the heels, particularly Joe Smith, and talking down the faces, most noticeably Kody Brown. On the May 18 edition of IWE NXT, Cole was attacked by Brown, after he constantly belittled him on commentary.
On the May 24 episode of Meltdown, Cole said that on that weeks edition of IWE NXT, he was going to call out Kody Brown and demand an apology from him or else sue him for the assault. The following day, on the May 25 edition of IWE NXT, instead of apologizing, Brown insulted Cole. Cole would retaliate by calling Brown a "loser" and telling him "he didn't have the heart to be in the IWE" before slapping him, which caused Brown to be restrained by security as Cole exited the ring. On the May 31 episode of Meltdown, after defeating Joe Smith in a match, Brown would get attacked from behind by Joe Smith, who would then take Brown to the commentator desk for Brown to apologize to Cole, only for Brown to throw Joe Smith onto Cole instead.
After Cole's feud ended with Brown, in the second season of NXT, Cole began to show more support for Joe Smith and his rookie for that season, Brian Hosmer. Like with Brown in the first season of NXT, Cole picked on season two rookie Lucas, for being another "internet darling".
Cole would then bring his NXT commentary style to Meltdown, where he would pick on certain superstars on the Meltdown roster, such as Blake Wheeler when he performs his entrance theme, Cole would show his displeasure to the song. Cole would also carry over the practice of belittlement towards Brown as well. Cole also began referring to his "fans" in the audience as "Cole Miners", a play on the term of coal mining. This was contrast to other superstars in season 2, such as Kooper McAlmond calling his fans "Almondbuddies".
On the third season on NXT, Cole would criticize the whole competition after a challenge, which would require him to ring a gong that was next to him. He would then walk off commentary, "quitting" the show. Cole would return halfway through next week's edition of IWE NXT, rejoining Mathews and Justin Eldridge, who filled in for Cole. Cole would state on commentary that "NXT without Michael Cole is simply bad and he is giving the show journalistic integrity". Like the first two seasons of NXT, Cole would pick on a rookie, this time Vanessa Cultz, who he would also call an "internet darling".
On the October 1 edition of Fusion, Cole returned to the show to join Matt Striker and Todd Grisham on commentary. On that same episode, Cole would tell Striker and Grisham that the reason he is on the show is because he is the new "Voice of the IWE" and that he should be on all IWE shows.
On the November 15 edition of "Meltdown," Jim Ross came back to be the special guest commentator for Kody Brown and Charlie Wilson's match as it was Old School night. Cole hated it and called it ridiculous as King and Ross embraced. Ross ignored Cole throughout the pleasantries and Ross said that he was glad to be there, all the while ignoring Cole. As the match started, Michael continued to insult JR and insult Kody Brown. After the match, Ross swatted Cole with his hat.
On the November 29 episode of Meltdown, while Justin Eldridge was co-announcing during his injury interlude prior to joining Nexus, Cole interfered in a Tables, Ladders and Chairs Match for the IWE Championship between Jerry Lawler and Joe Smith, costing Lawler the match by helping Joe Smith retain his title. A week later, Cole apologized to Lawler, but then changed his mind and said it was all Lawler's fault, so it should be him apologizing. This led to the Meltdown General Manager to request both men to have a handshake in the ring, and if Lawler hits Cole, he will be terminated from his contract. The two shook hands, only for Lawler to not let go and tell Cole someone else wanted to talk to him, with that person being Kevin McAlmond. After McAlmond argued with Joe Smith and Brian Hosmer, McAlmond hit an RKO on Cole, who would miss the rest of that night's Meltdown and was permanently replaced by Todd Grisham on NXT the next day. On the December 28 episode of NXT, Cole returned to the show to help Aaron Jewels in a talent show competition.
In 2011, for the first time ever, Cole received his own entrance music, "Texas Fight", the fight song for the University of Texas in Austin. During his announcing, Justin Eldridge told Cole that he was a Cole Miner.
In Wrestling
[
]
Finishing moves

An-Cole Lock (Ankle lock) – 2011–present
Schoolboy Pin
Nicknames

The Voice of IWE (Self Proclaimed)
The New Mr. Wrestlemania (Self Proclaimed)
Sir Michael Cole (Self Proclaimed)
Championships and Accomplishments
[
]
International Wrestling Entertainment

Slammy Award

for the "Oh My" Moment of the Year 2009) Vomiting on Kris McGowan at Fusion's 10th Anniversary

Slammy Ward

for the "And I Quote..." Line of the Year (2010)

Wrestling Observer Newsletter

Worst Television Announcer (2001, 2009)