Judgment Day (2006) was the eighth annual Judgment Day professional wrestling pay-per-view (PPV) event produced by International Wrestling Entertainment (IWE). It took place on May 21, 2006 at the US Airways Center in Phoenix, Arizona and featured talent from the Fusion! brand.
The main event was Scott Wright versus John Goff for the World Heavyweight Championship, which Wright won after pinning John Goff following a Frog Splash. One of the predominant matches on the card was Steve Britz versus Bobby in the 2006 King of the Ring Tournament, which Britz won after interference from Dan Hooper. Another primary match on the undercard was Matt Borske versus Steven Larson, which Larson won after Borske was counted out.
Background
[
]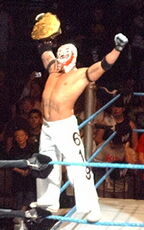 The main feud heading into Judgment Day was between Scott Wright and John Goff with the two battling over the World Heavyweight Championship. On the May 5 edition of Fusion!, after Scott Wright expressed his feelings about being World Heavyweight Champion, John Goff came out and declared himself the number one contender. John Goff immediately began degrading Wright because of his Mexican heritage, saying he was an illegal immigrant and that Wright doesn't deserve to be champion. Wright reacted by saying that he'd fight anyone at anytime. In turn, John Goff announced that Wright would face off against Steven Larson later that night. During the match, Wright tried to use his quickness to avoid Larson, but was easily countered by Larnson's power. Wright was able to hit a 619 and a Seated Senton, but was defeated when Larson hit the World's Strongest Slam for the pin. The next week on Fusion!, John Goff announced Wright would take on Reg Hageman later that night. During the match, Wright attempted a springboard dropkick, but it had no effect. Hageman then picked up Wright and hit a Two-Handed Chokeslam for the win. On the May 19 edition of Fusion!, John Goff said that Wright didn't look so well due to the beatings he endured in the past weeks and that he probably didn't even know what day it was. Wright answered and told him the day, May 19, Chris LeGreca, who in recent weeks attacked anyone who said May 19, came out and faced off agains Wright. LeGreca dominated most of the match, hitting a variety of power moves. LeGreca then began to hear voices in his head saying May 19, which caused him to go into a psychotic trance. John Goff told him to finish the job, but mistakenly said May 19, causing LeGreca to attack him. As a result, the match ended in a no-contest.
Event
[
]
Aftermath
[
]
Judgment Day (2006) Results
[
]