The IWE Championship is a professional wrestling world heavyweight championship in IWE. It is the primary title of the Dynasty brand and one of three in IWE, complementing the World Heavyweight Championship of the Turbo brand and the IWE Heavyweight Championship of the Meltdown brand. It was established under the Dynasty brand in 1999, after Dynasty and Turbo became distinct brands under IWE, and has moved between both brands on different occasions, mainly as a result of the IWE Draft
The new IWE Championship was designed for Kevin McAlmond's use ONLY as it is a spinner with the IWE symbol in the middle.
Championships Bracket leading to Rage in the Cage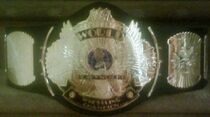 The current Design is the Egale designed IWE Championship there has only been one other design and that was when Nexus membe member Daniel Gonzalez had the IWE Championship for his last reign when the Nexus was first born into the International Wrestling Entertainment. The Nexus spray painted the Black 'N' on the Egale renaming it to the Nexus IWE Championship.
The current championship is being held by Kevin McAlmond who is on his 13th Reign as IWE Champion.
Community content is available under
CC-BY-SA
unless otherwise noted.