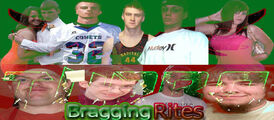 Bragging Rites
[
]
2010 + The first Bragging Rites was held at the Circus Theatre in Helena. Kevin and Martin had to defend both the IWE Championship, World Heavyweight Championship and the World Tag Team Championship in which they won and retained the Titles inside the Steel Cage. The first ever Bragging Rites Elimination Tag Team Match happen in 2010 and in the first year of the Bragging Rites event was won by Team Dynasty. The Team Dynasty and Turbo Divas beat The Nexus Divas. The Battle of Champions went down as the International Champion and current Turbo Superstar Ryan Barnhart defeated the United Nations Champion and current Dynasty Superstar Steve Britz, In a tough battle but after all was set and done in the Bragging Rites arena in Helena it was Team Dynasty walking out with the first ever... Bragging Rites... Trophy!
Bragging Rites this year was truly off the chain with the 7 versus 7 versus 7. And with Team Dynasty taking the trophy for Dynasty was so much sweeter.
2011 + Coming Next Year!
Aftermath
[
]
A few days after Bragging Rites, The Bragging started as each member of Team Dynasty came to the General Manager's office stating that they wanted the trophy. But the IWE Champion Kevin would stop all their wanting tell each of them the win was for Dynasty therefore the trophy stays in the Dynasty GM's office. The non-Bragging was on Turbo no one talked of Bragging Rites from Turbo knowing it was not there night the only one that talked about Bragging Rites was International Champion Ryan who beat Steve that night. But on Turbo Ryan was attacked backstage after his match with Mikhail..
Bragging Rites Dates and Venues
[
]